Hjogadim
From ThroneWorld

You do not
have the Mirror security
Ring-Zero clearance required to access this information.
Unauthorized access of this page is in contravention of the Imperial Secrets Act.
---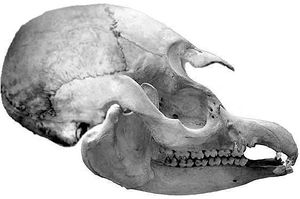 Hjo are a highly advanced Fourth Sun species with a massive empire coreward of the Méxica Empire.

The Hjo were first encountered by Chinese explorers but knowledge of the Hjo is rigorously restricted within the Méxica Empire; the one point of contact is the zhongdu's embassy in the Tlapocan district of Tenochtitlán. The Trade Language still employed between humans and the Hjogadim contains many Chinese-word elements.
Individuals are equipped with an exocortex to Guide them in Right Thought and nanomech to enhance and speed healing.

A Hjo looks like a bipedal two- or three-meter tall tapir covered in heavy silver-gray or gray-black close-napped hair. Exposed skin is wrinkled, leathery and gray-black.
They are very fast when startled and are stronger – kilo for kilo – than an equivalent human.
The species prefers a bluish light. Their world of origin appears to have a longer day than Anáhuac.
The long leathery snout holds heavy rows of grinding molars, with chisel-shaped cutting teeth lining the fore-jaw and a thick gray tongue.
They have multiple stomachs and can tolerate human foodstuffs, but Hjo physiology remains poorly understood by humans.
The Hjo metabolism is capable of absorbing very high levels of psychoactive or psychotropic substances with little noticeable effect on their central nervous system.
The species is adapted to extremely low temperatures:

The thick fur consists of hollow hairs.
The eyes are deep-set in the long, tapir-like head.
The slit-like nostrils are multi-valved to retain body heat.
When exposed to temperatures comfortable for humans, a Hjo employs a cooling system consisting of superconducting threads running through the heavy fur.