Anderssen
From ThroneWorld
Gretchen Elisabeth Anderssen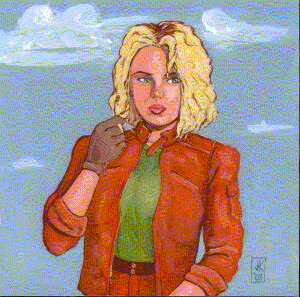 Gretchen is the sun that rises in the East, bright and full of hope, inexperienced but seeking to learn of the world, her raiment fresh. Though this is a traditionally male role, here the depiction is reversed. For her, Green Hummingbird is emblematic of the whole Imperial system holding down the conquered nations and stifling science, learning and exploration.
Imperial Citizen. Registered as a third-generation resident on New Aberdeen colony.
Family home is in the high timber near Dumfries.
Of macehualli status: descended from a Swedish-Russian family from Old Stockholm.
Daughter of Jean, granddaughter of Elizabeth and Carl. Her grandmother's father was a commander in the Swedish-Russian Royal Navy in the Last War and was killed in action off Titan.

Her mother has an account with the Riksbank.

Of middling height, short blonde hair. Described by colleagues as cheerful and pleasant to be around.
Married, with children: two girls and one boy named Isabelle, Tristan and Duncan. Husband is absent and may be an intinerant, unregistered musician.
Her personal logo on computer systems is a rabbit ear glyph.
Carries a medband, a comm-band, a locator band, an Ericsson 'scope, work goggles, an octopus interface unit for her field comp handheld computer, a sampler, a sonosound resonator, an eyeball camera , a cutting tool and a battered multitool that once belonged to her grandfather Carl. Her field comp carries a number of xenoarchaeology applications. She lost her sleepbag, mealheater and other equipment on Ephesus III.
Wears a field jacket. Owns a z-suit and is experienced in using a rebreather.
Boots are of realcow leather, bought for her by her mother.

Associated persons:
Political affiliations – none.
Present on the Imperial Protectorate of Bharat Four during the darmanarga moktar rebellion.
Curriculum Vitae